Denise and her husband Chris, both in their 70's, moved into their new home at Laureate Gardens in Summer 2020. Both still very active and working part time, thinking to the future they decided it was time to make the move out of busy London and start to take things a little bit easier.
Denise explains more. "Chris and I are originally from South Africa and have been living and working in London for over 34 years.  While we have been slowly stepping back from work we still enjoy our active careers so retiring is still a bit of an on-going process for us.
"Chris retired from his role of Professor of Molecular Genetics at Guys hospital in London in early 2019, but then went on to take up a role as a part-time Professor in Human Genetics at the Sydney Brenner Institute for Molecular Bioscience in Johannesburg, South Africa where he is leading research teams on the study of genetics and genomics of cancer in African populations, along with mentoring young African scientists in cancer research.
"And I still keep busy working part time. My nephew and I own a garden centre and services company based in Kentish Town and I still really enjoy playing an active role in the company. With both of us moving to part-time work though we both agreed it was the right time to move out of London and start to enjoy a slightly slower pace of life in a more peaceful location.
"Key to our location search was somewhere that would offer us easy access to the countryside, but still with easy transport links to London so I could continue to work there a couple of days a week and still be in contact with friends and the wonderful experiences London has to offer.
"We definitely wanted to move to a small town as opposed to a village to have access to everything we need such as doctors, shops and the opportunity to make new friends.  We zoned in on Henley as it seemed to offer everything on our wish-list."
Decision made on Henley the couple started looking at possible properties and put their Victorian London home on the market, but after a few false starts in finding what they thought was their ideal home in Henley and timing this with finding a buyer for their London home they decided to take a step back and do one thing at a time. "Having not moved in years we felt a bit pressured by the challenges of co-ordinating the sale of our home with finding and completing on a new one that was also in a chain. We decided to get our London home sold and rent for a while in Henley and wow we are so pleased we did that.
"It changed our expectations of where we thought we would like to live in Henley, and the sort of home we were looking for. Living here made us certain we had found the perfect spot location wise, but we had been looking at larger, older properties, not dissimilar to what we had left behind in London, which would potentially leave us having to make a further downsizing move in the future.
"After the challenges and upheaval of moving from London we were agreed the new Henley home would need to be somewhere we could live for the long-term, we really didn't want to have to move again as we got older. Also having now lived in Henley for a little while we knew that being really close to the town centre was so important to us and our lifestyle.
"We first came across Laureate Gardens just after it launched in February 2020 and when we did it was like everything fell into place. Living in a development of 34 properties had not been something we had considered before, however we immediately saw all of the great benefits it offered.
"The location was terrific. A five minute walk to Waitrose, Majestic and Machin's, the wonderful butcher in the town centre, a ten minute walk to Phyllis Court and the river, and just a few minutes to walk to the doctor and Townsland Hospital, something that would be very reassuring as we grew older.
"It also made the perfect easier life downsize as all of the external maintenance of our home and the lovely grounds would be taken care of for us, and everything inside the home was modern and new. It didn't take much debate for us to agree this was perfect for us and we eventually selected a three bedroom house with a really nice sized garden as we love living outside whenever we can."
The couple completed on their new home just a few months later in April 2020. "Buying a house during the first UK lockdown was a little challenging, however Amber Infrastructure and Davis Tate did everything they could to ensure the process went smoothly.
"As we were still in our rented contract we didn't have to rush to move in so once we had the keys we took the opportunity to have quite a bit of hard landscaping work completed on our garden and have some bespoke fittings added to the house before finally moving in officially in the August.
"Because of all the Covid restrictions we've had since then meeting with our new neighbours has been mostly limited to chats outside in the grounds, but even that's been a nice bit of company to keep the spirits up in these difficult times. We are all looking forward to less restrictive and warmer times though when we can all meet outside in the fabulous communal gardens for a glass of wine.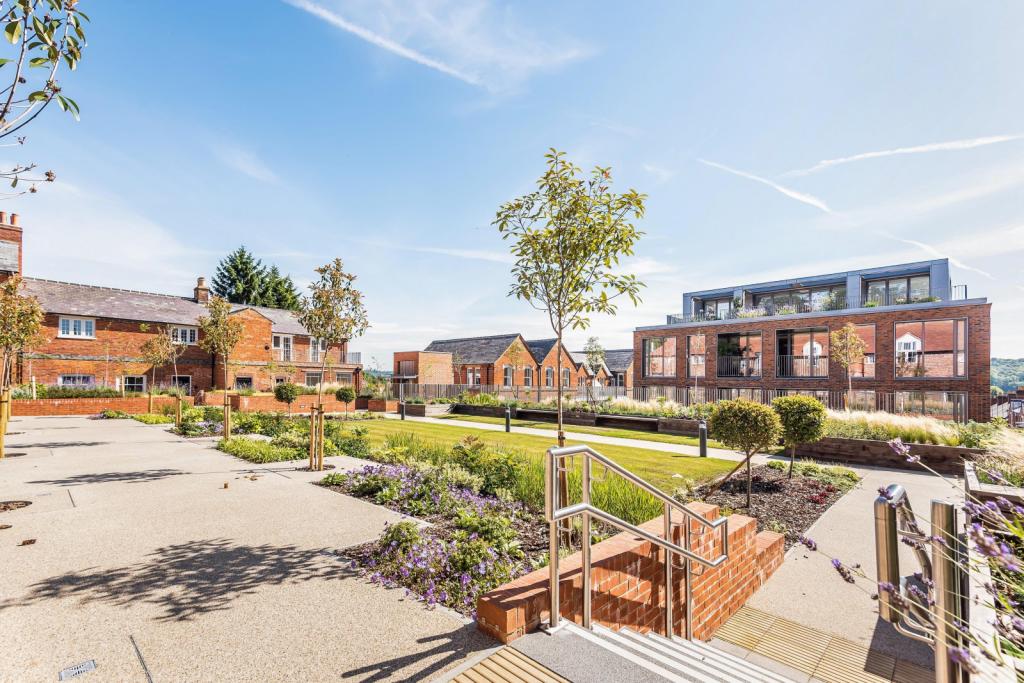 "Chris and I already know we will be really happy here.  We absolutely love our new house; it's modern whilst having some original character features, and we've been able to put out own stamp on it.  We are also going to really enjoy living with our new neighbours. We all seem to be of a similar mind-set and just want to relax and enjoy some fun in this important period of our lives.
"And having Henley life on our doorstep when it all opens up again is going to be a joy. We hardly use our car living here and when Chris does go back to spending three or four months a year in South Africa with work I feel really happy and secure knowing that I'm going to be surrounded by lovely neighbours and everything I need on my doorstep."