Sally Burn, 72, moved into Laureate Gardens in May 2020 despite the challenges of the UK being in its first period of lockdown.
Sally explains the background to her decision to buy a new home here. "I was living in a very nice village in Wiltshire where I had a lovely big house with a large garden and plenty of friendly neighbours.
"Moving had been in the back of my mind for a few years though. I think I was realising that as I was single and not getting any younger at some stage the upkeep of this house could all become a bit too much for me, and actually quite a hassle. Also downsizing now would be the opportunity to have a big sort out while I was fit and active and take with me what was important for the next chapter in my life. I love collecting china and other keepsakes so the house was quite full with years of bits and bobs.
"I've always been happy to head out and enjoy shows and days out on my own too and that was something I wanted to do more of. Living here it was a little bit remote and I needed to drive everywhere which could sometimes put me off going as it always felt a bit of an effort to get anywhere.
"It might sound silly, but when I went off on holiday in September 2019 and came back to my favourite Hydrangea looking as though it may have died from lack of water, that was the catalyst to me deciding now was the right time to move, before the upkeep and maintenance of this house would escalate. I would much rather be spending time with my family or enjoying days out and trips to the theatre than worrying about a problem roof or worn out fence."
Sally enjoys a very busy family life with her four children and ten grandchildren. After discussing her ideas on moving with them she decided to focus her search on the Henley area.
"When I was married I'd lived in Pangbourne, not that far from Henley, so I knew the area well and that Henley had a fabulous range of amenities close to hand. My daughter also lives nearby in Kidmore End and as she has the youngest of my grandchildren it would be nice to be nearer to her to help out.
"With the help of my children we started looking at places in Henley. I loved the idea of being able to walk to the cinema or theatre, or if I fancied a day out in London the train station would be in walking distance. It was a really exciting prospect.
"My daughter had seen Laureate Gardens under construction and we made an enquiry in the December, but we weren't able to visit until the official launch in January 2020. I liked the idea of a new build and when we viewed a 2/3 bedroom house I'd shortlisted from looking at plans, as soon as we walked in I thought I could see myself living here. It had a nice quiet location around the courtyard, a perfectly sized rear garden that I could easily manage and enjoy pottering about in, plus a nice front terrace area too.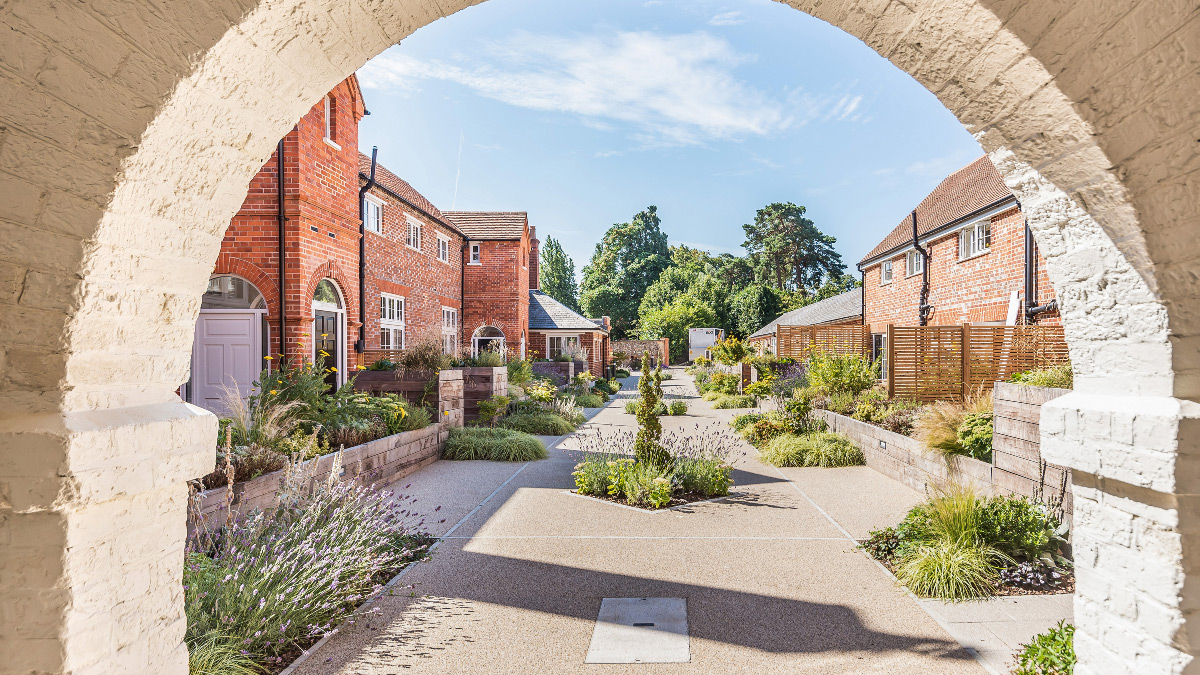 "After we left though I started to over think things and wonder if this was the right move. One of my sons said he wanted to come and take a look and we went for a second viewing the very next day. The sun was shining, the gardens looked lovely and he said straight away after looking around the house I liked 'this is the place for you'. He put the deposit down that day. I needed that little nudge and once the decision was made I couldn't wait to get the whole process moving."
Sally put her house on the market and it sold over a weekend. "This was just as lockdown was starting so I was a bit worried about how that might affect things, but the sale happened and progressed so quicky as the gentleman buying my house was a medical consultant and needed to relocate quickly for work. I had to move out and live with my daughter for a while as my new home here wasn't ready for occupation just yet, but as we were in lockdown that was probably a blessing for both of us I think and I was able to help out with the home schooling of my grandchildren."
While staying with her daughter Sally took the opportunity to arrange some alterations to her new home before she moved in. "I was able to add lots of shelving and units to the open plan living area to have somewhere for a lot of my china to go. I also had extra shelves and storage added to my walk-in dressing room. I eventually moved in in the May.
"I suppose I've not really had a chance to fully experience living here yet, what with going in and out of different lockdown phases since then, but from what I have experienced I know I have made the right decision.
"Having Henley on my doorstep is just wonderful. It's a short walk to Waitrose for all of my daily shopping and being able to stroll by the river is such a wonderful way to while away an afternoon. I really can't wait for all the cafes, the theatre and other great amenities and things to do here to get back to normal so I can really start to enjoy Henley life. I've also joined Phyllis Court but not really had the chance to make the most of it yet. I'm looking forward to meeting old friends and making new ones there.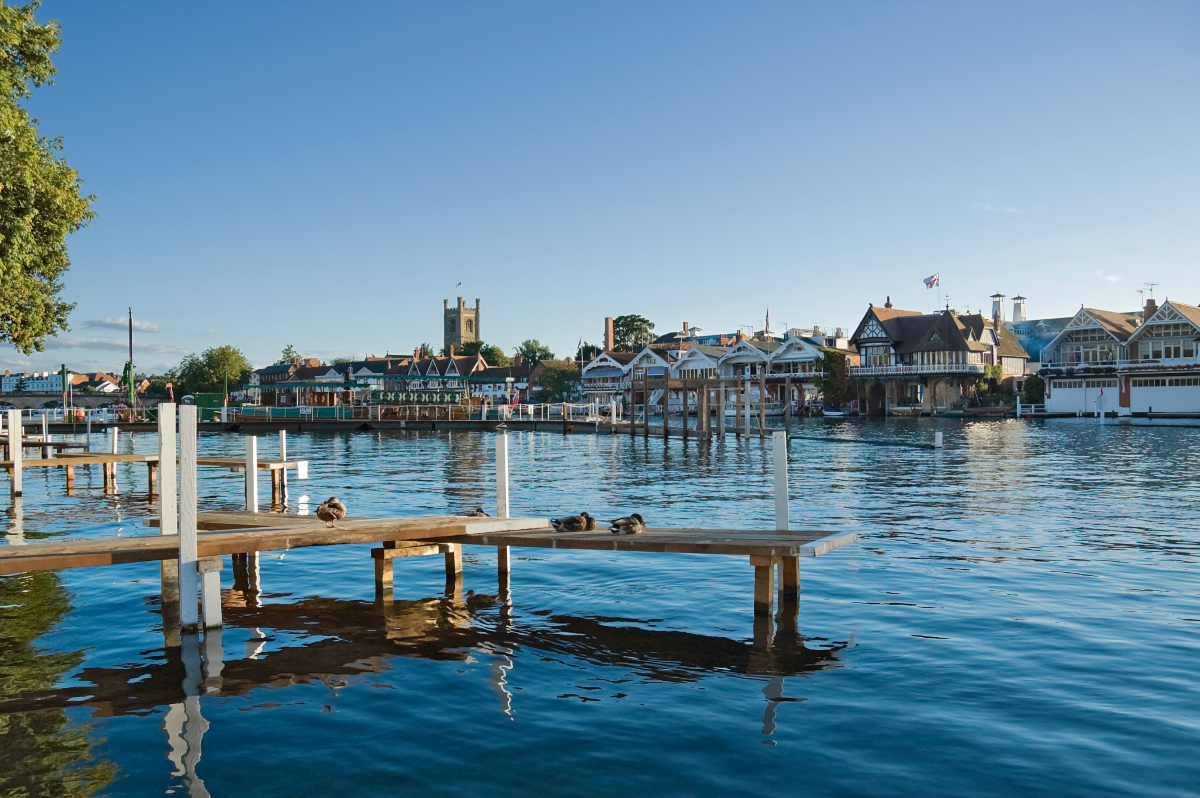 "It was the low maintenance nature of the homes here that really appealed to me. With a large house you are responsible for all of the upkeep and there is always something to worry about getting fixed or maintained. I am finding it so much easier here, you just don't have to worry about it as it's taken care of for you and you can spend time doing much more fun things. Having like-minded neighbours will be great too. We've not really had a chance to socialise properly yet, because of lockdown, but just from chatting around the grounds everyone really does seem lovely, it's definitely going to be a really friendly community to be a part of.
"It's funny as in my old house I had so many downstairs rooms I sometimes wondered which one to sit in of an evening, and it never felt cosy. Here it's so easy. I have my lovely open plan kitchen, dining and lounge room and it suits me perfectly – a modern way to live. And having an en-suite and dressing room off my large bedroom feels like such a treat, my granddaughter is always saying 'Granny you are so lucky, I want to live somewhere like this when I'm older'.
"In fact, at the times when we've been allowed to, all of my grandchildren love visiting me here. In my old place I'd just leave them playing in the garden as there was not much else to do without driving somewhere, but here we love walking into town or heading to the local park, it's just so easy. My children are also really pleased I'm living here, it's lovely when they visit but they know I'm also going to be kept busy making new friends and getting out and about enjoying local life.
"I'm enjoying planting up my new garden now my first spring here has arrived and in pride of place is my favourite Hydrangea which I actually managed to save. It was the catalyst to me deciding it was the right time to move and downsize so it felt apt that it came with me. I can't wait to see it bloom this summer as we all get back to a bit of normality and I can start to fully experience all of the benefits of living at Laureate Gardens."